The best Nintendo Switch bundles and deals for Christmas 2017
Nintendo Switch bundle deals have stepped up a gear now and we've seen huge numbers of them selling as retailers have put together specific bundles. Stock has been an issue since the Nintendo Switch launched, but we're seeing a vast improvement nowadays with a better selection of retailers managing to meet demand.
On this page, we'll list as many Nintendo Switch bundles as we can find from reliable retailers. We've also rounded up the best deals and prices for extra Joy-Con controllers, Pro controllers and even some cheap Nintendo Switch memory cards.
Thanks to our automatically-updating price comparison charts, if a retailer does opt for a discount, you'll see it below. As retailers open up their Nintendo Switch bundles with extra games and controllers, we'll give the best ones a shout in this article too. If you'd rather see bundles than standalone prices, head on over to our US or UK sections.
If you're waiting for more games to arrive first, get your Ninty dose fixed with a cheap 3DS deal. If you're after Nintendo Switch deals in Australia, check out our Australian page.
The latest Nintendo Switch deals:
Want to know where to buy a Nintendo Switch? Check out our comparison chart below for the latest Nintendo Switch prices. In the UK, stocks seems to be much more prevalent now but US stock seems to still be a bit thin on the ground – but gradually improving. It's too early in the year to pay over the asking price if you ask us, even if you are after one for Christmas. All is not lost though as we have found some good value Nintendo Switch bundles with games/accessories underneath our comparison chart. Don't forget, if you're buying the console on its own, the RRP is $299/£279, so you don't want to pay more than that unless you're getting some extras.
Note: US stock is a bit hit and miss, but if you're struggling and don't want to wait, there are lots of Nintendo Switch deals on eBay. 
Nintendo Switch bundles (USA)
In the US, GameStop is now taking orders for a variety of Nintendo Switch bundles. Options include Super Mario Odyssey, Splatoon 2, Zelda: Breath of the Wild and Mario Kart 8 Deluxe. Top be honest, we're just not seeing many other retailers offer bundles right now, not ones that that don't cost more than buying the items individually at least.
We've highlighted our picks of the best Nintendo Switch bundles below. Just be aware that they don't really offer much of a discount over buying the items separately, except for the fact that most stores have sold out of the Switch on its own. We'll steer you clear of bundles that actively charge you more than the regular combined RRP as we saw a lot of big stores do in recent months, and it's happened a few times over the Black Friday weekend.
Nintendo Switch | Super Mario Odyssey | $359.99 @ GameStop
It turns out Super Mario Odyssey was more than worth the wait and is another fine addition to the growing collection of quality Nintendo Switch exclusives. Savings are at a minimum here, but seeing as this game should amongst your most wanted, this bundle is a great place to start.
View Nintendo Switch bundle: Grey Nintendo Switch with Super Mario Odyssey $359.99 @ GameStop
View Deal
Nintendo Switch | Zelda: Breath of the Wild | $359.99 @ GameStop
Despite being out for months now, The Legend of Zelda: Breath of the Wild is still $60 at most stores, so this Nintendo Switch bundle isn't quite as overpriced as it looks. And let's face it, with stock continuing to sell out, there's not much incentive for stores like GameStop to knock any money off.
View Nintendo Switch bundle: Nintendo Switch with Zelda: Breath of the Wild $359.99 @ GameStopView Deal
Nintendo Switch | Sonic Forces | $339.99 @ GameStop
This is the cheapest Nintendo Switch bundle we've seen that comes with a game. In all honesty though, Sonic Forces forces is pretty average and the extra $20 is more than worth it for the likes of Zelda or Mario instead. If you're buying a Switch bundle as a present, this could be one to avoid. Loyal Sonic fans on the other hand…
View Nintendo Switch bundle: Grey Nintendo Switch, Sonic Forces $339.99 @ GameStopView Deal

Nintendo Switch bundles (UK)
As with any new console there will be bundles available containing extra controllers or games. UK gamers are starting to get some decent offers, with actual discounts on some bundles. Compared to the stock shortages the US is facing, it's much more of a buyer's market and we have actually seen some discounts on the console on its own.

Nintendo Switch | Super Mario Odyssey | £320.99 @ Amazon
You can now get the Nintendo Switch Super Mario Odyssey bundle with the other versions of the console too. there's not much  of a discount, but seeing as the Switch is selling out again, this might be your last chance anyways.
View Nintendo Switch bundle: Grey Nintendo Switch, Super Mario Odyssey £320.99View Deal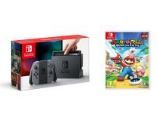 Nintendo Switch | Mario + Rabbids: Kingdom Battle | £306.98 @ Argos
Looking for a cheap Nintendo Switch with at least one game? We've seen this bundle for less, but if the other bundles sell out, then this is a decent alternative, especially as Mario + Rabbids: Kingdom Battle is still quite new. Also available with the Red/Blue Switch through the link below.
View Nintendo Switch deal: Nintendo Switch, Mario + Rabbids £306.98 @ ArgosView Deal
Nintendo Switch | Rayman Legends | £299.99 @ Game
As much as we love Rayman, we imagine many gamers have already played it or one of the multiple remasters over the years, so perhaps some of the other Switch deals would be a better match. This is very cheap though.
View Nintendo Switch bundle: Nintendo Switch, Rayman Legends £299.99 @ GameView Deal
Nintendo Switch| The Binding of Isaac | accessory bundle  | £309.99 @ Zavvi
It's not the usual Nintendo game, but The Binding of Isaac is a platformer that older gamers will love to play on the big screen or on the go. Throw in this accessory bundle and you've got a bundle that gets you a neat saving of just under £40.
View Nintendo Switch deal: Nintendo Switch, The Binding of Isaac and accessory bundle £309.99 @ ZavviView Deal
Nintendo Switch bundles at Argos from £284.97
Argos has multiple bundles available today for the Nintendo Switch in both the grey and red/blue models. You can get big discounts on games like Mario Rabbids, Rayman Legends, Lego Worlds and more. Other options include a Switch backpack or a control pad.
Nintendo Switch Q&A
As with any new console announcement we imagine you're wanting to know a bit more about the console before you put any money down. So in addition to finding the best Nintendo Switch deals, we're going to help bring in answers to the burning questions.
What are the Joy-Con controllers?
The Joy-Con controller is actually a pair of controllers that attach to the sides the the Nintendo Switch when not in use or when playing in tablet form away from the TV. 
When playing the Nintendo Switch on the TV though, you can remove them and play with one in each hand. The left hand  gets a controller with an analogue stick and d-pad, the right hand handles the one with a second analogue and the usual A, B, X and Y face buttons.
What's the Joy-Con Grip controller?
The Joy-Con Grip is an additional accessory that joins the two Joy-Con controllers together, forming something something a bit more solid for you to hold thanks to the extended handles and plastic block between the two sides. The square dimension form-factor may remind older gamers of the Dreamcast controller, while everyone else will mainly be thinking how it resembles an odd-looking dog face. Nintendo is providing one in the box with the Nintendo Switch, so you won't have to buy one separately.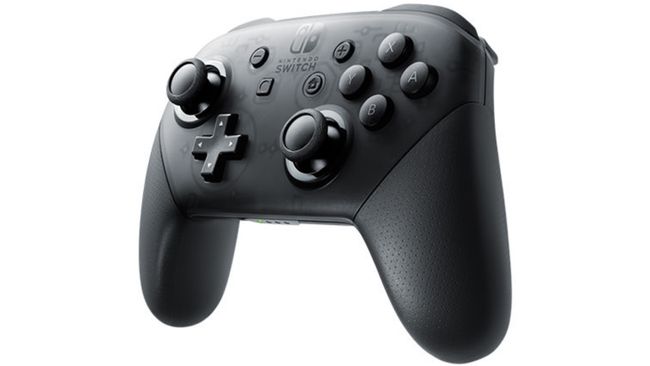 Is there a Nintendo Switch Pro controller?
Yes and it doesn't come with the console. But you won't actually need one to play certain games, so don't feel pressured in to buying one. The Nintendo Switch Pro controller is a more traditional-style pad and launched alongside the Nintendo Switch. Prices aren't cheap though, starting around $69.99/£64.99. There's currently no sign of a Nintendo Switch Premium Edition console with one included, but that could change the closer to the Black Friday shopping season.
Do I need to buy extra controllers for multiplayer on Nintendo Switch?
Possibly not! Remember how the Joy-Con controller splits in two? Turn them sideways and you get two basic controllers, each with their own analogue stick and face buttons – the d-pad acts as face functions on the left controller. So far we've seen 2K's NBA series, Snipper Clips and Mario Kart being used this way for local multiplayer in both docked and tablet modes. So you get multiplayer functionality straight out of the box with no additional purchase required.
However, if you want to play four-player games, then you're going to need to invest in an extra pair of Joy-Con controllers or some Pro controllers. We'd buy the Joy-Cons as a pair (see our comparison chart above) as you'll save a bit of cash over buying them separately. Better yet, if your friends own a Switch, ask them to bring their controllers to the party!
The Legend of Zelda: Breath of the Wild deals
The reviews have heaped huge praise upon this eagerly awaited launch title, making it an essential purchase for any Nintendo Switch buyer. As with any new console, the prices of the big games can be more expensive than usual. We've shopped around for you though and have found the best prices for The Legend of Zelda: Breath of the Wild on the Nintendo Switch. Take a look below.
Nintendo Switch Micro SD memory card deals
With only 32GB of internal storage, you'll be wanting to pick up a cheap memory card or two for your new Nintendo Switch for any digital purchases or the inevitable game-fixing patches. Don't fret though, they're actually surprisingly cheap, with even 64GB ones coming in at under £20/$25.
What memory cards does the Nintendo Switch need? Those will be Micro SD cards also known as, depending on their size, as MicroSDHC (up to 32GB) or MicroSDXC (up to a huge 2TB soon). Nintendo will be releasing their own branded cards, but you'll be paying more, just for a label. So for now, we'd take a look at this range of cheap MicroSDXC Nintendo Switch-friendly cards.
Source: http://www.techradar.com/news/nintendo-switch-deals
Powered by WPeMatico